Powertrain/Vehicle test cell - (Click to know more)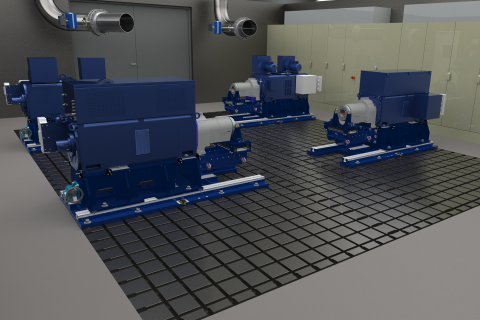 Wheel dyno system and cell baseplate

4 off AVL DynoULTRA synchronous PM motors 800kW each up to 5'000 rpm, installed on a pneumatic suspended steel baseplate 6x7m.
AVL Load System 4 DynoULTRA for transient, dynamic and high-dynamic Powertrain and Drivetrain Testing 4WD and 2WD.
Automation
AVL PUMA Open 2 R4 Powertrain Testing to carry out typical testing for transmissions, individual components or entire powertrain development.
EMCON 6 4WD-POWERTRAIN TB CONTR. 404/SW for controlling, monitoring and operating a four-wheel-drive powertrain test bed in a four-machine configuration.
AVL ISAC 6 Vehicle and Driver Simulation Powertrain Testbed, for the simulation of missing drivetrain components, vehicle mass, driver and road, on a Powertrain Testbed.
Battery emulator system
2 x AVL Battery Emulators 400KW 1200V 800A for hybrid powertrain testing maximum flexibility and capacity.
High precision fuel consumption measurement system
AVL FuelExact PLU system high precision fuel consumption measurement in transient conditions and controlled fuel temperature.
Emission gas analysis bench
AVL AMA i60 SII Single stream continuous analysis of raw exhaust.
Measured THC, NO/NOX, CO2, CO, O2.
Cooling and ventilation
AVL tangential blower reproducing up to 180 km/h air speed fulfilling the global requirements of the WLTP cycle.
Independent cell cooling systems for IC engine coolant, oil, SC intercoolers, electric motor coolant and inverter, gearbox coolant.
IC engine intake air conditioning (temperature and humidity).
Cell ventilation intake and exhaust, recirculation air conditioning, hot spot cooling points.
Engine test cells - (Click to know more)
Geo Technology is operating
4 state-of-the-art engine test cells
.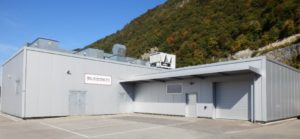 The 4 test cells are located in a dedicated building made in steel reinforced concrete, each of them with direct access to the control room 3.5 m wide and 20 m long.
The testing cells of Geo Technology are large volume and equipped by dynamometers with dynamic positive and negative torque control capacity (road cycle simulation), large intake air flow with temperature and humidity control, high flow ventilation, high cooling capacity (water, oil, intercoolers).
Fully equipped workshop for engine assembly, disassembly and tested parts analysis.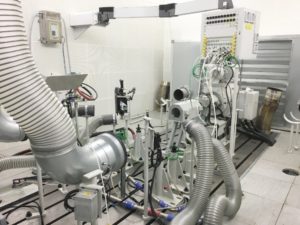 Battery emulator for hybrid engines
243 kW nominal power capacity, 0-600 A, 10-1000 V. Available in cells 1 & 4, active on one cell alternatively.
Combustion pressure analysis system
AVL X-ion high-speed data acquisition and IndiCom analysis software. AVL in-chamber combustion pressure sensors and encoder system.
Emission bench AVL AMA i60 SII R2C
Double stream continuous analysis of raw exhaust. Measured THC, NO/NOX, CO2, CO, O2. Available in cell 2 & 4, in one cell double stream or two cells single stream.
Communication to ECU
ETAS INCA software and interface modules.
Blow By Meters
Kristl & Seibt Model KS 637 or AVL Model 442. Range: free based on nozzle selection.
Borescope
Olympus Model IPlex LT IV8420L2 with video recording function. Fully flexible probe dia.4 mm, direction view 0 – 120 deg. Zoom function, exportable picture and video generation function.
Metals in oil analysis
Laboratory spectrometer for analysis of metals and contamination in oil. 22 + 11 additional detectable elements, including, among others, copper, lead, tin, silver, bismuth, iron, aluminium.
Viscometer (oil dilution)
Model SVM 3000, max operating temp. 100°C. Dynamic viscosity range 0.2 – 10'000 MPa.s. Density range 0.65 – 2 g/cm3.
Exhaust gas analyser
Portable Bosch analyser, CO, O2, HC.
Cylinder pressure tester
Motometer and SUN testers.
Additional Rig testing facilities
Performance test of auxiliary systems (fuel pump, air pump, flow bench). Valve train rig with laser measurement of dynamic velocity and lift (outsourcing).
Climatic testing cell for battery - (Click to know more)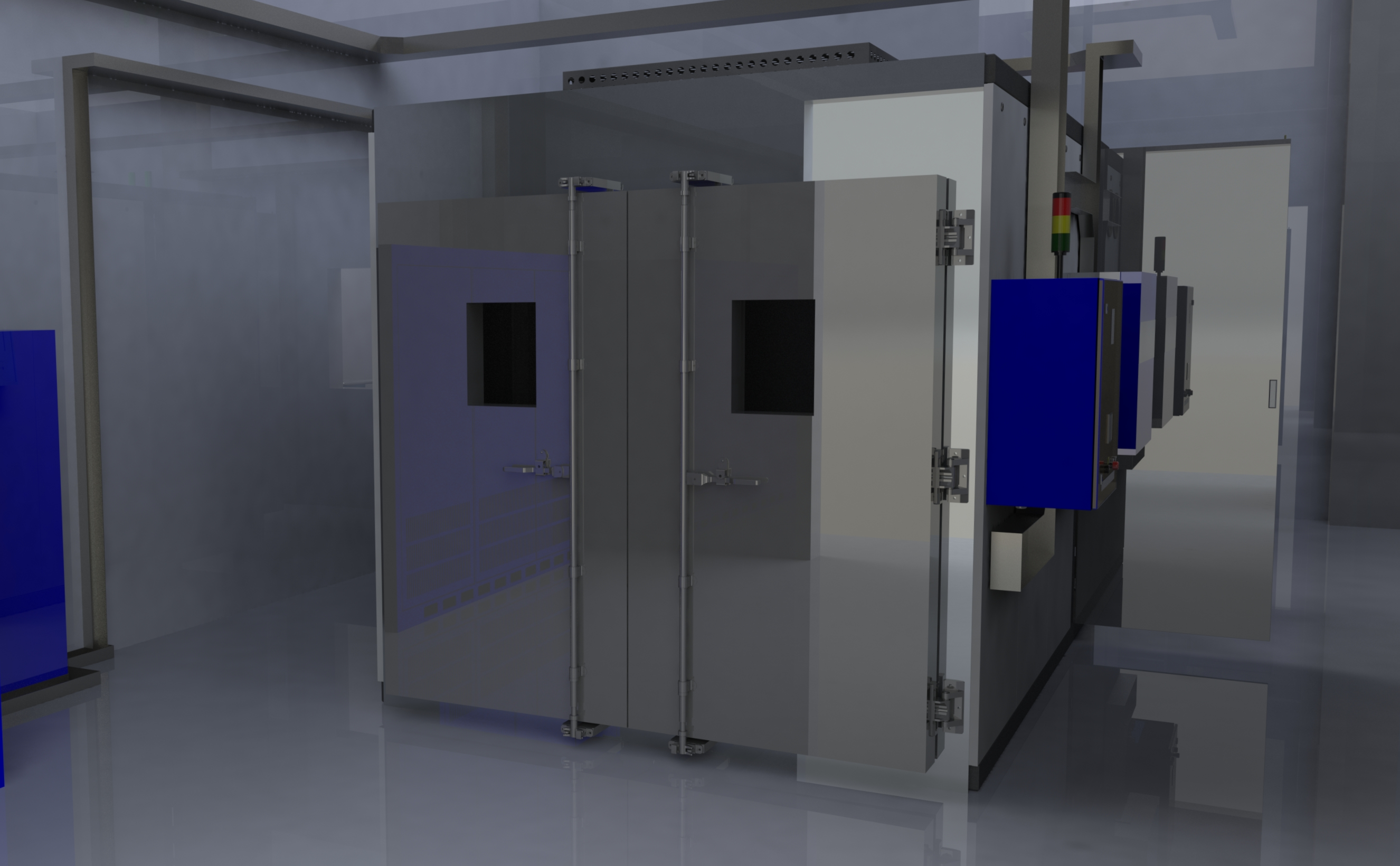 The cell is operating under high safety standard specifically developed for battery testing.
In this cell it will be possible to operate customized battery demand cycles for the physical battery packs under controlled temperature range from -20°C / °40°C
The battery pack can be tested as a standing alone unit or located inside the vehicle.
In fact, the dimension of the battery test cell of Geo Technology, 9x4x3.5m allow the positioning of a complete car inside.